imported post
tpwood wrote:
I need some help and info please, I purchased an 87 1200 in January this year with 74K on it in great mechanical shape, prior owner kept everything up on this bike. I have 77K on it now and just noticed a samll oil leak just starting to drip a drop or 2 of oil after being parked from the rear of the boot on the front of the drive shat and it has also started to accumulate a drop of oil on the rear flange of the drive shaft where it attaches to the fianl drive. I am a mechanic so Iooked at the Haynes manual, and it said to take it to a shop basically, due to specialty tools to get into this area. I was wondering if anyone has had this problem and can help me figure this one out, if I can do this myself or take it in and about what it would cost. Thanks folks!
Tpwood, that really sounds like you have a leaking rear case cover seal (where the U-Joint exits the rear cover). There is seal pressed into the rear cover (inside that convoluted boot). Pulling the engine is one option for replacing. You could probably also remove the rear final drive & drive shaft then work that boot off & out, then try to access that rear cover seal. It might be a problem driving the new seal into the rear of the case but possibly could be done. I have only done one rear cover seal & I already had the engine out so can't help you much there.
If your oil level is over full it could be forcing oil out that rear cover seal.
Make sure it is actually engine oil & not rear gear oil, if it's gear oil you could have a leaking seal around the rear drive pinion. If that's the case you will only have to pull the rear drive unit & reseal the pinion seal.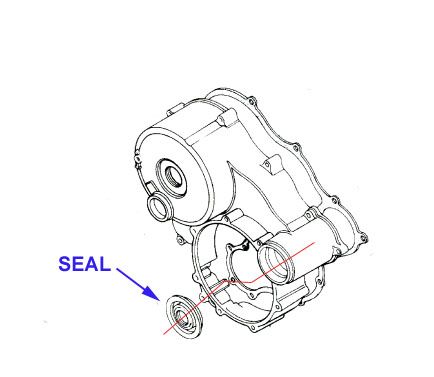 Twisty