Discussion Starter
•
#1
•
imported post
As you know, I've been working up a camp trailer for my Honda ST1300. I've never been a motorcycle trailer sort of person, and I've always felt that a trailer wasn't "real motorcycling" in a way, a foolish and prejudicial position as it turns out. But I bought my first real motorcycle 45 years ago last April, and I'll be seventy come spring... I have to face the fact that tent camping -- a way of traveling that Red and I absolutely love -- may not be in my future too much longer. Need a little more luxury for my aging bones, I guess, and I think we've found it!
We chose a very safe trip for our trailer shakedown, a camping destination about 75 miles away, with good camp spots and great roads to ride. A little nervous, we hooked up and headed out..... and I'm now a convert!
We were astounded by how easy the trailer was to tow, both in heat and in heavy winds (up to 30mph on all points of "sail"), and how easy it was to adapt to it. I believe that if anything, towing a trailer makes you a better rider: you must anticipate more and choose your cornering lines more carefully. You're aware of it back there, but not in a bad way; it's still motorcycling, it's still fun....
And the wind! We live in wind country; our county is laced through with wind farms, and I admit that towing the thing in the wind was my biggest worry....but no longer! If anything, the trailer steadies the bike in the wind. It's phenomenal how well it rides back there. Seriously.....
We roll right along at freeway speeds if we want, and I hauled the Vantage grade (Washington riders know what I'm talking about.....) at 65mph in our highest gear at 93* Farenheit, with no problems whatsoever..... And friends, let me tell you about that Queen-Sized bed! Oh, the luxury! And getting up to pee is no longer an issue! (are you listening, Foodman?)
(Our rig: I worried about the tilt-up on the trailer, but it rides so nice, I ain't gonna worry no more!)
(here it is, our Taj Mahal, set up on the banks of Soap Lake, Washington)
(Have you done this ride? From Soap Lake to Grand Coulee? Great road!)
(more.....)
(Back in camp... the guy behind us might have a fancier RV than we do, but he doesn't have a finer wife than I got...couldn't! A Queen in a tent is worth a thousand Harpies in a Palace!)
(coming on night, a good night in a good place....)
(decadent, ain't we...... Steve McQueen would be so ashamed of me! Lol....)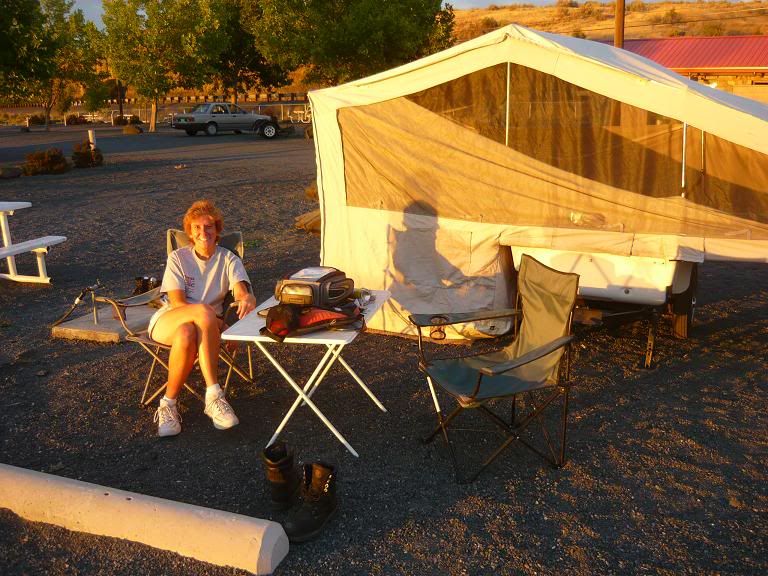 (watching a golden sunset......)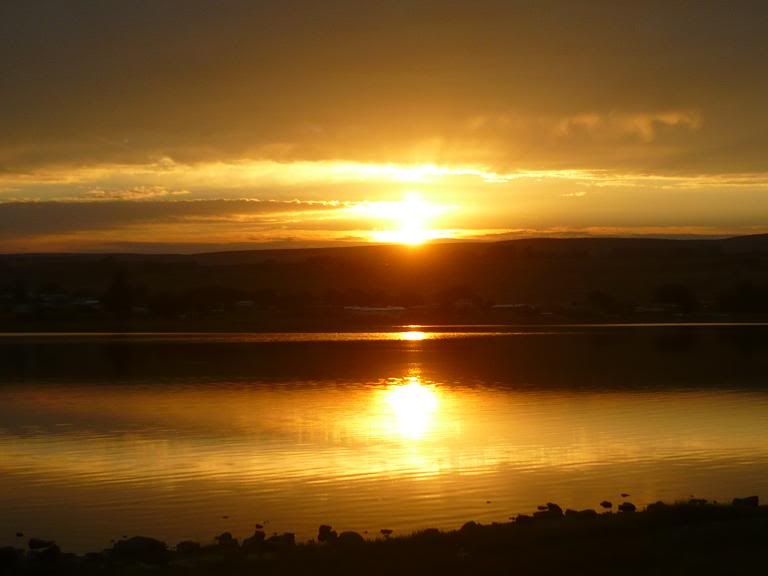 (The view out my "bedroom" window! With screened windows unzipped, and with a cool breeze wafting over your face from the lake, pure heaven......and baby, let me tell you about that Queen-sized bed! ZZZZZZZZZZZZZ!)
(Good morning! All we need for breakfast: pressed coffee, instant oatmeal fortified with almonds and raisins. I think the secret of successful towing is to not fill up your trailer with tons of unneeded crap.... we plan on going almost "backpack light," and to keep things as simple as possible......our gear will live in the trailer, so all we have to do is hook up and go!)
And so there you have it....our shakedown cruise was a success....our Aspen Sentry and Denray trailer hitch are now adopted members of our family, and we are trailerers! I think this thing will add years (at least 10, I hope, to our camping life.... If you're on the edge, thinking about a trailer, go for it baby! It ain't bad, ain't bad at all.......