Discussion Starter
•
#1
•
imported post
I started check all this after I had V's at the ignition switch connection bl/rd but no headlight when I jumped the bl/rd or hooked up the real ignition switch and turn the key to on..
Battery at 14.5 V's after all night charge, main fuse is new and good.Checked all connections at battery, all fuses good, main ground good, the the wires coming off the solenoid are good, pulled out the big bunch of wires at the steering neck and all the plugs look good, wires all out of the headlight bucket and they look good.
So I jumped with a short copper wire at the main ignition connector (the one that fits into the key assembly) plug(blk/rd), why no juice at the headlight or oil light?? But when I connect by meter to the bl/rd cockets at the main ignition connector I get 14.46 so there is V's at the connector. But no V's at the headlight plug when I plug in the meter into the headlight plug, with the jumper at the main connector, bk/rd. I am stumped..j
Of course also no oil light which I did see a couple of times while turn the key while the ignition assembly was together a day or two ago
Where should I look next? What tests can I do???
With the black lead from the meter attached to the neg battery post..and the red lead attached to the red wire socket from the back side on the ignition connector I get 14+ v's as soon as I put the jumper the front side (a "U" shape piece of stripped copper wire) the V's disappear from my meter....pull the jumper off and V's appear again??...with the red lead still stuck on the red wire side and the black to the nege battery terminal.
jumper in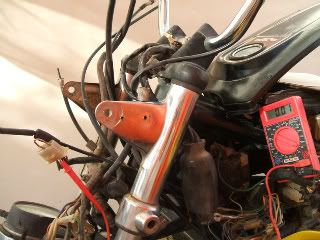 no jumper connection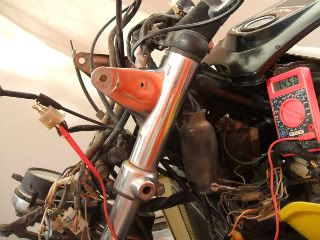 Nothing but the jumper changed..
I am crazy or doing something wrong??? It's like putting the jumper on kills the circuit?