Discussion Starter
·
#1
·
I had wanted to put this in the FAQ thread, but it wouldn't let me. This seemed like the next best place.
When I found a set of Vetter bags for my GL 1000, the one thing I found when they arrived was that the saddlebag locks were entirely missing. I've also seen this be the case on several sets for sale on eBay and elsewhere. The thing that this creates is the inability to be able to remove the bags. The bags were meant to be removed to act as luggage and more importantly, to be able to access the rear area of your bike for service, etc.
The locks themselves are keyed alike standard locks not unlike the ones on your file cabinet, tool chest, etc. Where they differ is the brass tab on the lock end that expands the spring clip to allow the release of the bags from the mount. You can buy replacement locks pretty much anywhere like Lowes, Home Depot, your local locksmith (a better place to buy keyed alike locks if that is important to you), or wherever. The brass tabs are the problem. Nobody makes them and they are no longer available through Vetter even though they do offer various restoration supplies for their fairings and products.
I had contacted Vetter about this and received a response from Craig Vetter himself. He supplied me with the exact dimensions of the brass tabs to be able to fabricate them. The picture is from him and I have supplied it below.
Apparently, this is not an uncommon issue as it is roughly addressed in his FAQ section on
www.craigvetter.com
. He also alluded to this in the e-mail I received from him.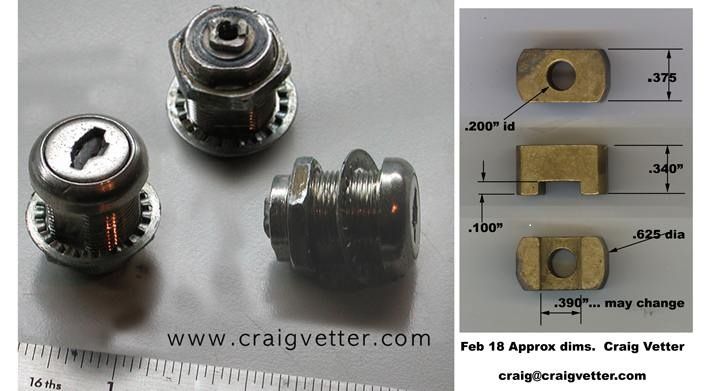 For replacement locks, use the shorter ones which measure just under an inch in length.
It is not necessary to use brass for the tabs, but brass is a softer metal and better able to be formed to spec. You will also note the size of the divot where the tab goes over the end of the lock to be held in place with a screw usually supplied with new locks. The original size of the lock end was pretty much universally .390. Apparently, now they are .250. You should carefully check the size of the squared tab of the lock before you attempt to carve out the divot on your tabs. If you have a caliper, this will be best to use.
If the spring clips on the mounts, which is another integral part of the locking system, are damaged or missing, they are available new through the Vetter web site.
I hope that this helps others who are facing the problem I have with the Vetter luggage.