Discussion Starter
·
#1
·
imported post
Ok, so I decided to take on the problem of a wing headset on the cheap. I decided to modify an existing, easy to find, and inexpensive headset.
I used a set for the chatterbox set. It was $30usd, and is marked "For stereo units only". It's output is a 6 pin mini-DIN male plug, just like the end of your keyboard cable. Along with the headset, you will need 1 female socket 6 pin miniDIN connector, and one 5 pin female DIN socket. The connections used on the goldwing are the same as MIDI connectors, which are easy to find at your local electronics store. You will also need a 6 foot (2 meter) MIDI cable. Coiled is best, but straight will work.
Looking at the male plug on the headset, this is the pin-out: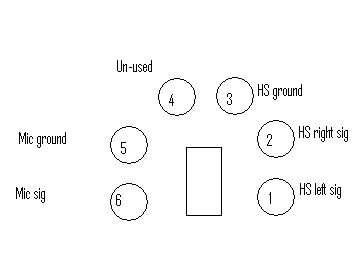 From there, it is easy to use the two DIN connectors to create a adapter dongle. This is the dongle pin-out:
Mini-Din Wing-side:
15
2 4
3 3
4 x
5 2
61
After soldering everything together, I slid the dongle into the strain releif for some odd audio cable I had laying around, and then wraped the whole thing in lots of electrical tape. The chatterbox headset came with 2 clips to hold the wires, and I put one on each side of the dongle to hold it in place.
Of note: The speakers work just fine, but the microphone is incompatable. I am going to work on a phantom-power system to make the condenser mice work with the system.