Discussion Starter
·
#1
·
Well, I'll get dinged for this but I'm gonna say it anyway: the best motorcycling on earth is in the European Alps. I'll entertain arguments about that statement, but only from people who've been there. It is simply unbelievable -- the entire nature of the roads, the scenery, the people, the whole experience, will simply stun you....riding in the Alps have been among the best moments in my life....
And we ain't rich: and when we were first getting interested, we were turned off by the $8K to $12K cost that most organized motorcycle tour operators charge for a two-up couple....and that's after airfare.....for maybe seven days! Red and I are educators, me now retired, and we didn't have a silver spoon in our mouths. We just couldn't afford such an "organized" tour. But we learned how to do it, with just a few adjustments, and the the type of touring we now do almost anybody, I believe, can afford..... it's simple....and I'm gonna teach you how, right now.
First, forget the organized tour and the guides.... you don't need it, or them.
What you need is this guide book, John Hermann, Motorcycle Journeys in the Alps and Corsica,
, and yeah, it's expensive so buy it used. Keep it and cherish it; it's the ticket to the best riding of your life.
Second, take camping gear. The campgrounds in Europe are unbelievably luxurious and well-cared for....there is simply no justification for spending $200-$300 a night for even a three star hotel when you can stay nearly two weeks in a campground for the same amount. The nature of Alpine riding is such that it lends itself to a "basecamp" approach -- set yourself up in a comfortable campground, and make day tours from it. Keep it simple: a $150 tent (with a fly) and a $100 sleeping bag (45* rated), a sleeping pad, and maybe a backpack stove, and you're good to go! Europeans themselves stay in campgrounds, and they love Americans that do, too..... trust us!
Take your own riding gear and jacket and helmet. Put it in a big backpack, and your camping gear will probably fit, too.
Okay, here we go. Buy a roundtrip ticket to Munich (Munchen!). We got ours in high season for about $1800 apiece..... stay the night in Munich to get de-lagged (3 Star Hotel, $165). The next morning, go to the old Munich Train station and buy a ticket to Balzano, Italy via Innsbruck and Brenner Pass. Go second class; we were always able to "upgrade" our seats on the train once aboard.... we paid $125 for our tickets. Take the small digital camera out.... the train ride is spectacular!
In Balzano, if you get there late, cross the street and stay in the Balzano Youth Hostel,
http://bozen.jugendherberge.it/cs.asp?st=1&sp=en
, for about $20 a night, and that includes breakfast. There are four bunks to a room, and you might have to share the place with some laughing young women who don't speak your language (and the downside of that is.....?).
The next morning, take the Drusso street bus to this campground, and set your tent up.....
http://www.moosbauer.com/en/t/prices.html
.... this is a lovely place, and Red and I spent about $125 for a week for clean, luxurious restrooms, a well-stocked store, a pool, a restaurant, friendly staff, and good, good company with the other guests....a truly remarkable campground.
In the morning, take the Drusso bus to this place,
http://www.rent-a-bike.it/47/english.html
, and rent yourself a bike..... do not go too big! You don't need a Goldwing for the roads you're gonna be on, and a super-scoot is just fine.... then ride back to the campground, get your copy of Hermann's book, and go on and ride the great Dolomite roads! This will keep you busy for days and days, and will be one of the best times of your life!
(to be continued in another post!)
Dolomiti!
At the summit of Stelvio....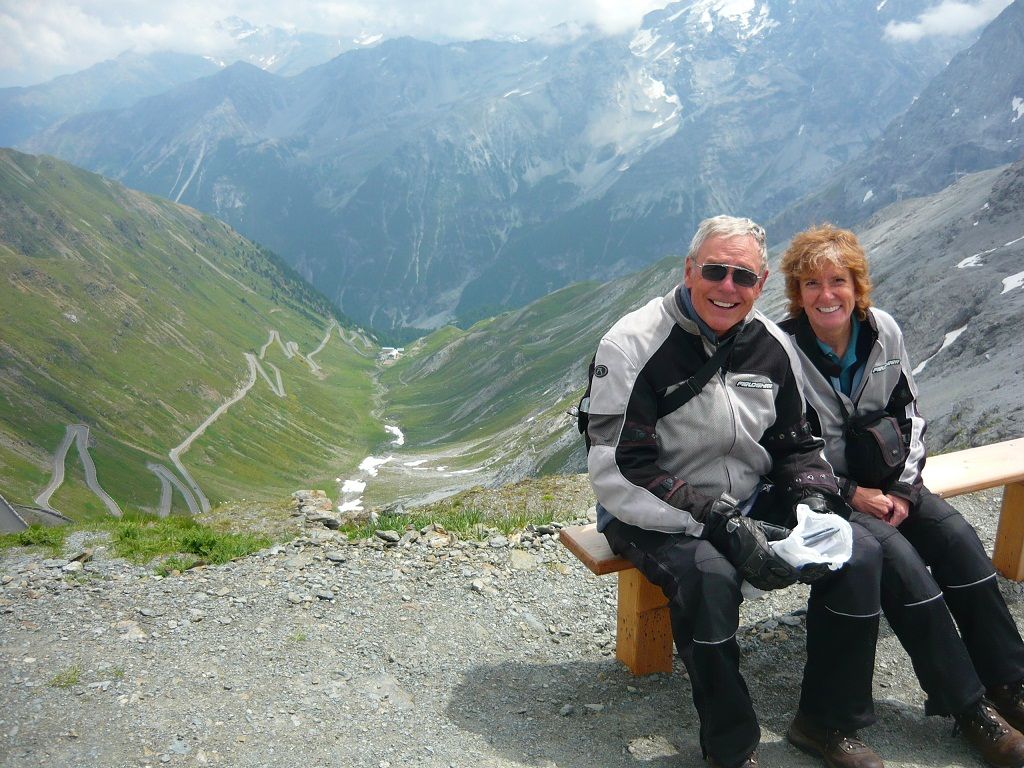 A Yankee hick in paradise, Passo Dello Sella
Riding a Dolomite road, my trusty photographer on the pillion!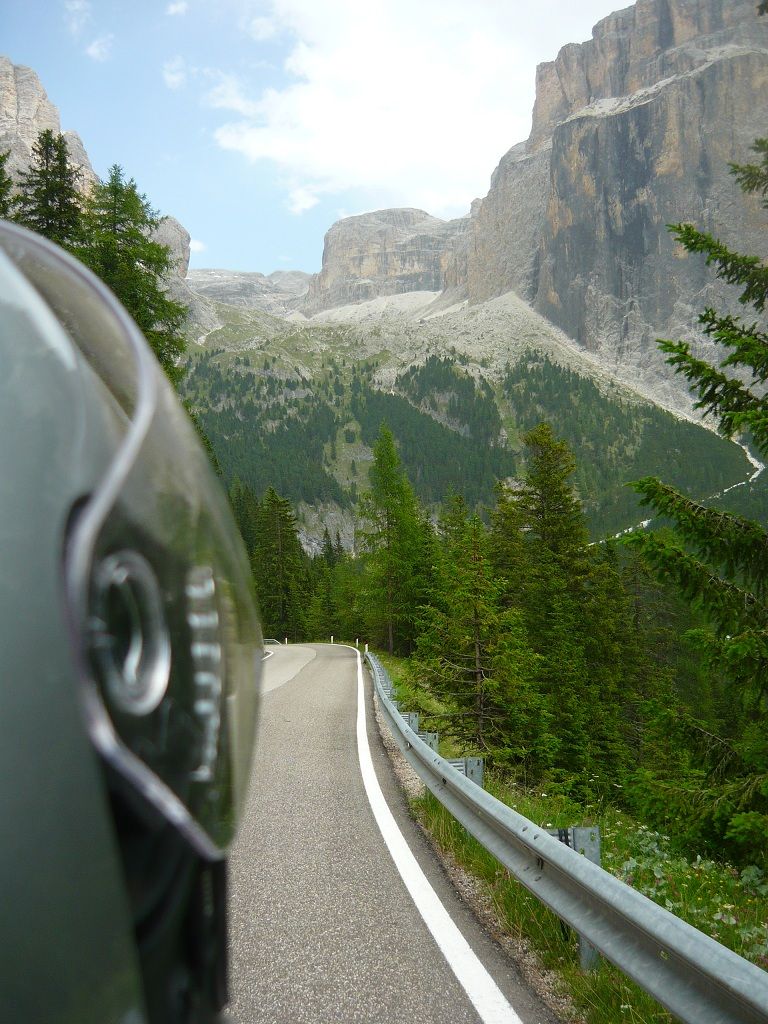 On the road to Stelvio......