Discussion Starter
·
#1
·
imported post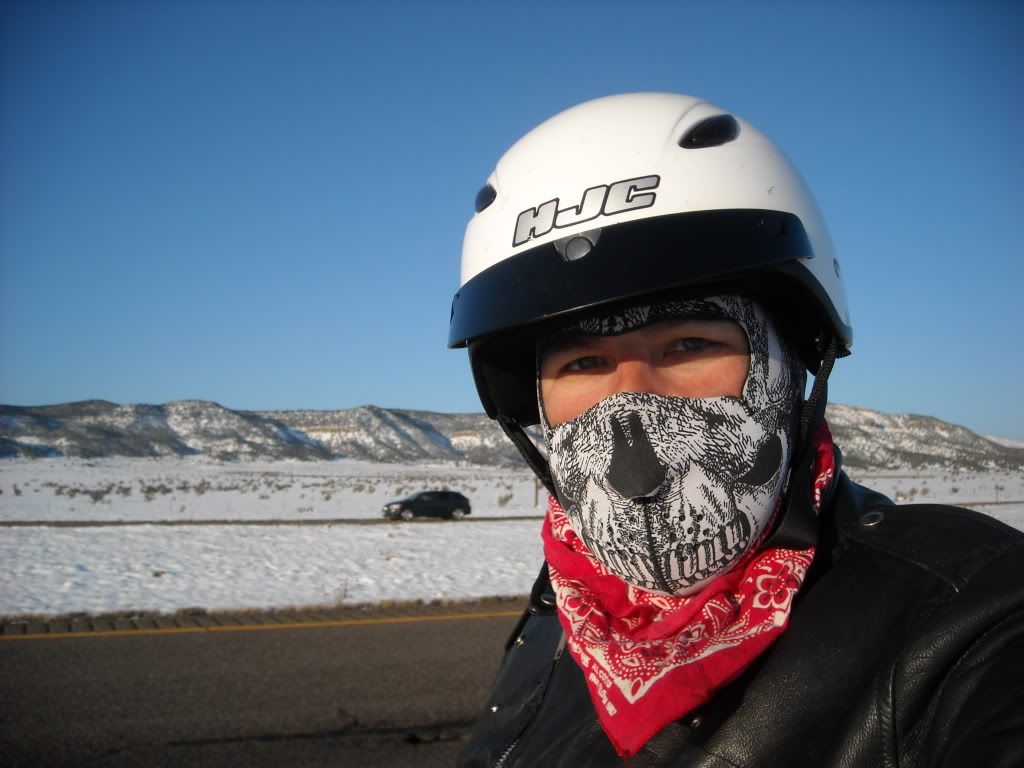 On Wednesday Oct 21st I headed from Tulsa OK with my ultimate destination Denver CO. My original route was across 412 to Woodward OK where my Sister-in-law's mother lives for a free night then up to Goodland KS for a hotel night before heading on into Denver. But if you were watching the weather you know that was not possible.
As I left Tulsa it was snowing across CO and W. KS and a family member reported at some point Wed/Thu I-70 across KS was closed. So I had to change routes. I was not facing the bad weather yet though. On this side of the storm the air was still warm, (50's)until about 30 miles outside Woodward, when it started to rain and the temps dropped into the mid 40's.
Thursday I headed across the panhandle of OK toward NM. I thought I had ridden in wind, boy did I not have a clue, plains winds in high 30's low 40's drizzle. About Claton NM the clouds parted and the drizzle stopped, and the temprature continued to drop. But it was a beautiful sky on the other side of the storm.
At Des Moines NM, elevation 6000ft I hit snow on the ground for the first time of the trip. Sierre Grande, the mountain in the background, blocked the wind and snow according to the girl at the gas station where I stopped to get some coffee and warm up. She said it had stopped snowing there that morning and the other side of the mountain had 5ft drifts.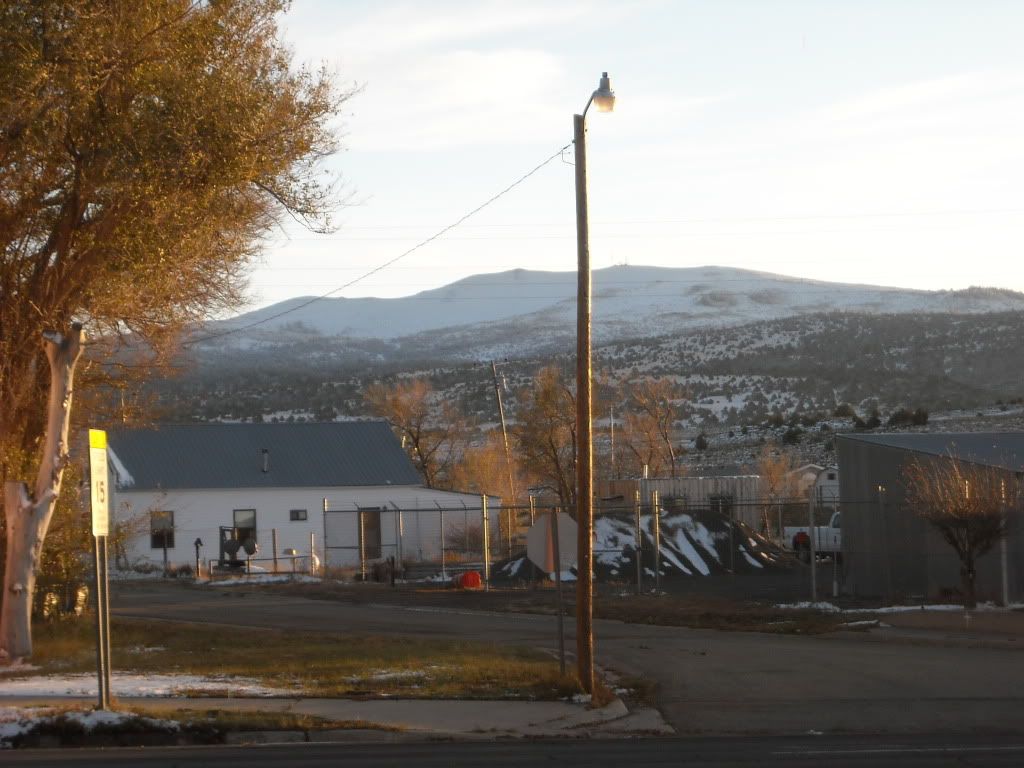 I spent that night in Raton NM, which is also about 6000ft elevation and was about 29degrees. Let me say, with all the snow, the roads were beautifuly clear, and NEVER did I hit a single time where there was even a question as to whether anything was rideable.
Friday AM I got up at dawn and went over Raton Pass, elevation 7000ft temp at the top of the pass was 22degrees. As I dropped into CO I decided I needed to stop and take pictures of the vista that greeted me... so here I was 24 miles into CO.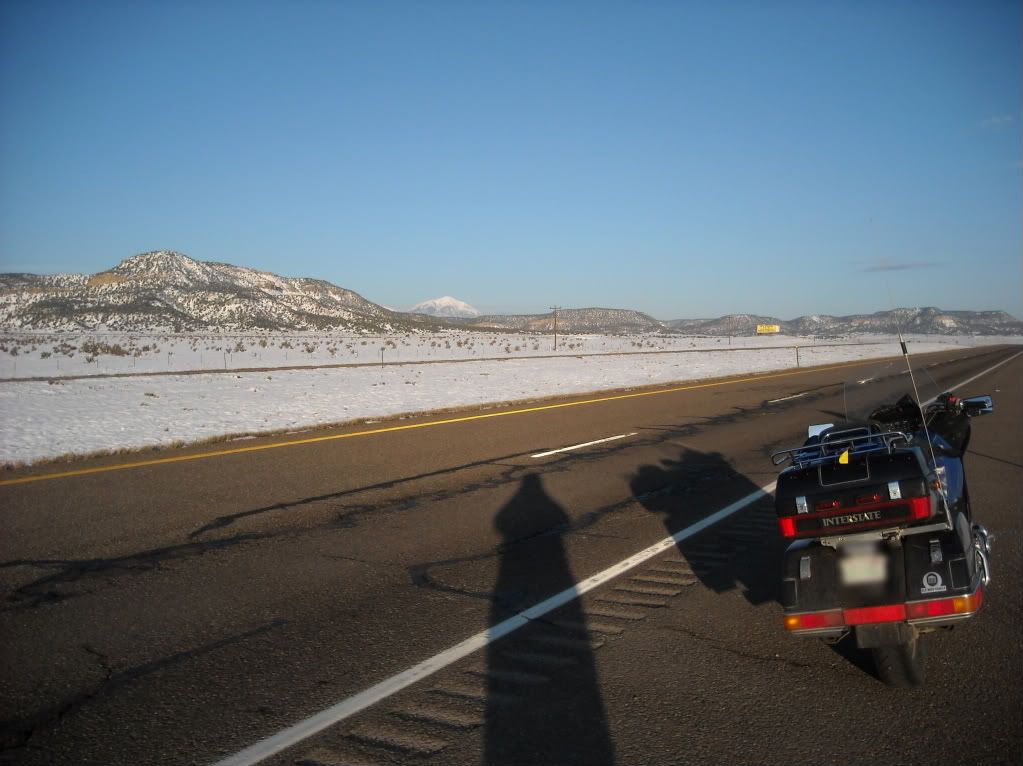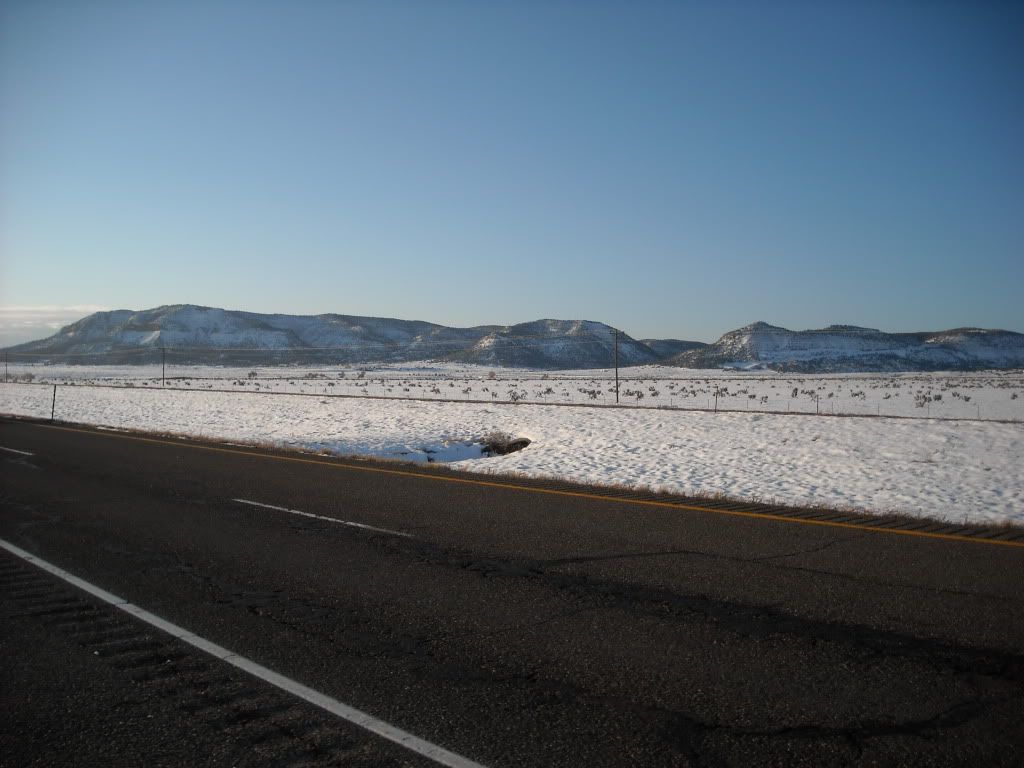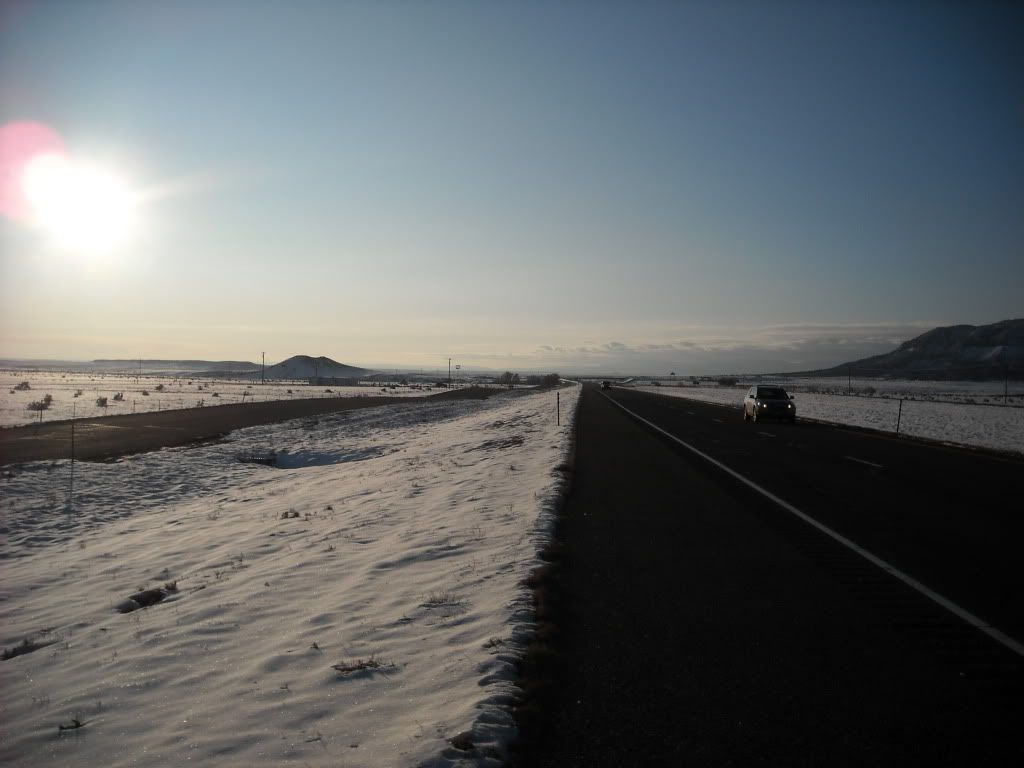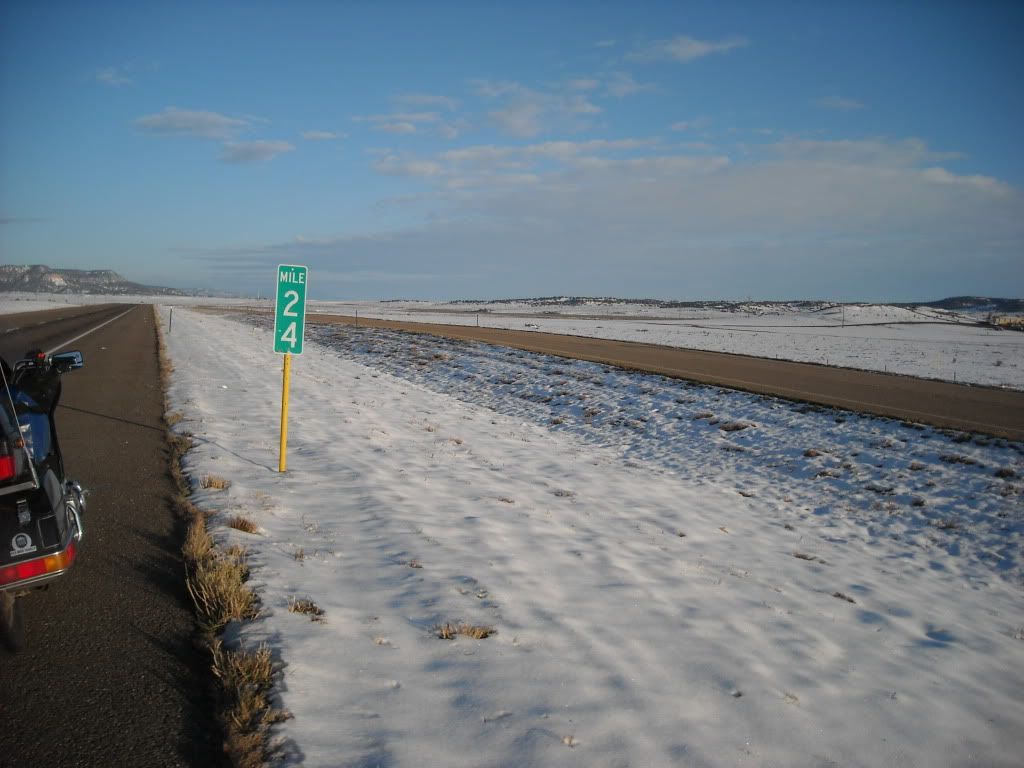 (if I knew how to use one of those photo shop things I could put that in a 360 panorama but I don't know how, oh and the blurred tag isn't because I don't trust the folks on this site, becauseI do,but because I posted the pics on a open site to get them to link....)
I think it is appropriate here to discuss my riding rig and gear setup for cold weather riding... I am riding an '84 Interstate, which has a farring that does not cover my hands, so they still take the wind, and the engine is not covered, so the wind comes around it onto my feet. However, and this is a good thing in the winter, the '84 is one of the years that will build up some engine heat behind that fairing, which in the summer means I ride with myfeet out on the Hwy pegsmost of the time for air (since I don't have wings,) but in the winter that is a goodthing. I ride a stock seat with a drivers backrest and probably the cheapest hwy pegs you can buy... I do however, have a $20 walmart pad under an AlaskaLeather Company full pelt sheepskin.
As formy gear. I wearflannels under jeans,Ituck my flannels into my socks to keep air flow down. I wear my reguar Airait ropers. Upper body gets undershirt,long-undershirt, t-shirt, flannel shirt, sweat shirt, leather jacket. Gloves are "Street&Steel" Nashville model and I weara bandana around my neck and a neoprene"skull" mask and 1/2helmet. I did find that using thecheep shake hand warmers sold in the hunting section at walmart directly in my glovesand boots extended my riding time between stopsgreatly, especially when Ipulled a hand out of the wind occasionally. I also use the layers on the upper body to adjust for the temp variations in cold weather, andANYTIME I GOINSIDE FOR ANY LENGTH OF TIME allbut the last layeror two come off.... if not, the body adjusts and then wants more whenyou getback out in the cold. With this setup I could ride easily 50-90miles in 29-35degrees at hwy speeds (75-80mph) without major issues.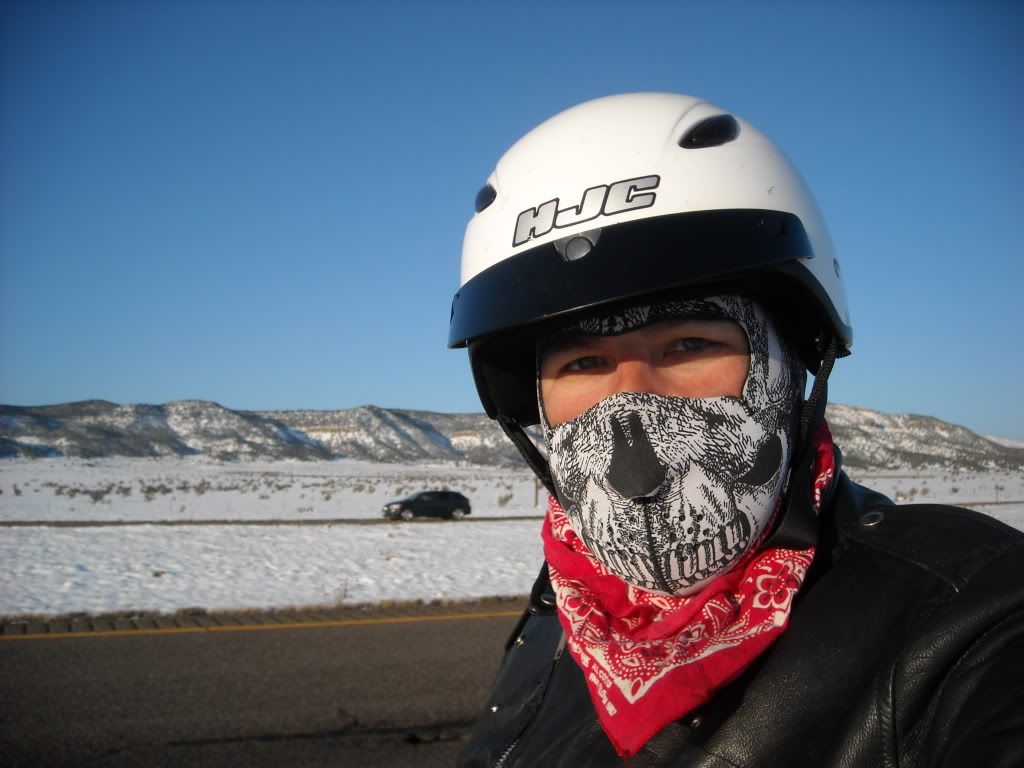 Now Friday the weather got beautiful as I dropped into Pueblo. Tempratures began to rise, the sky was that high mountain blue, that only the clear mountain air can provide. By the time I got to Colorado Springs, at the base of Pikes Peak, the tempratures had actually climbed into the mid 50's, and the bike was really wanting to go up the mountain.
(And as we all know when the bike wants to go the rider has nothing to say about it...at least that is what I tell my wife...)
Fortunately for the old girl, and probably for me as well, only 13 of the 19 miles was open, and no reason to start what you can't finish. So that is something I will have to do on a summer trip.
Saturday in Denver was GEORGEOUS!!!! I think it actually hit 60. Unfortunately I didn't get to ride as much as I would have liked, but I was there for a reason, and Saturday was the reason. I work with a ministry for homeless street youth in downtown Denver, Dry Bones (drybonesdenver.org) and we had our board meeting and fundraiser on Saturday.But I did get some riding in, and even spotted a bear.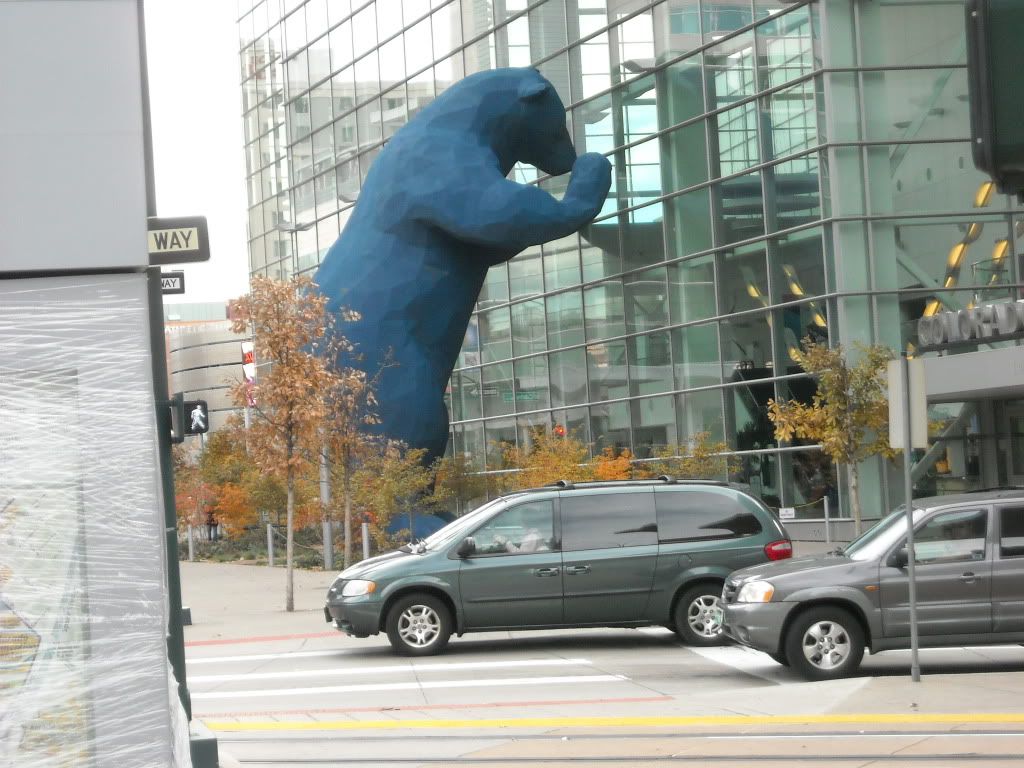 Saturday night the weather looked bleak, predictions were for drizzle/snow Sunday AM, and if that was the case I would rather be on flat ground that on the side of the mountain going back down I-25 so I decided to go out I-70 and take the route home I had planned on taking here.
At dawn Sunday I took off, and about 20miles out I hit drizzle/sleet so I stopped to put on the rain gear (which I failed to mention eariler consists of frog-togs in bright yellow with tour-master's version of gators). And while I was putting on my gear this is what gathered on my seat....
Fortunately soon thereafter the temprature dropped and the wind picked up and it turned from drizzle/sleet to powdery snow without any icing in between. Again I reiteriate NEVER were the roads a concern, they went directly from wet from drizzle, to dry from the wind.... But the powdery very light snow off and on continued all the way across E CO through W KS to Hays KS where I stayed for the night. (Motel 6 is my new best friend when traveling alone, cheep w/ no amenities which is what I am looking for, just a bed....)
Monday I got up to frost on my windshield, but temps warmed and skies cleared as I headed East and South. However, as I approached Tulsa I did run into the remnants fo the weather from earlier in the week.
All in all a GREAT trip.... though there are those who don't understand, who just wouldn't understand.:action: