Discussion Starter
•
#1
•
imported post
This is a picture of the Austone beside on of cthe popular 205 60 series tires the Valkyrie riders are using. The Austone is much taller but is less than an inch in diameterlarger than the stock E3 I am now running.
http://i1214.photobucket.com/albums/cc485/BernieWatkins/DSCN0254-1.jpg
As you can see I have no idea what I am doing with these pics. I placed the mounted Austone beside my front tire so you could see the width.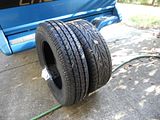 Because the Austone tire is deminsional close to the E3, I believe it will react more like a motorcycle tire and be easier to get used to. I have been a little under the weather since Monday cso it will be a while before I can get it installed and a progress report done.
Dubs