Discussion Starter
•
#1
•
imported post
THE FORUM SEARCH ENGINE
How come it don't work? Or does it really work after all?
Hey! Did you notice that the first two lines of this thread are the same as the Title and the Sub-Title ? Well, they are, check me out here :grinner:
Why did I do that? Well, it is because I have found out from talking to reliable sources that the Forum Search Engine does not index the titles, only the text area. So, all those searches I have been doing for the title that NEVER gave me any results, AND frustrated me no end is because it was never designed to search titles. Oh well, now on to the Rest of The Show…
This thread sort of came about from my frustration with trying to find something of relevance to me when using the WowUltra's Forum Search Engine.
Am I the only one that isn't exactly thrilled with it presenting to you the most relevant thread related to what you are looking for? Give it more than a couple of words to look for and the search results pretty much come to a halt. With the forum being as busy as it is, and with the WowUltra indexing every thread AS IT IS BEING POSTED, your request to find something with Search gets kicked on to the List of Things To Do Later.
I have found out though, that IF you are patient, and IF you are willing to painstakingly read every thread that it gives you, you will find what you are looking for Eventually. Not perfect, but it does work. I am going to present here some things I have noticed. This article was put together over several hours, so it is kind of herky jerky. But it is FREE for you to read, so KwitchYourBellyAching :doh: :waving:
EDIT:
Search is NOT sorting by Most Recent Date. I don't know how it is doing it, but it is not using dates as a relevance factor.
The thread titled "Sea Foam 100% Happy......" is very current, but search can't find it and I would bet that one thread is using the words "Sea Foam" more than any other thread out there.
----------------------------
EDIT: This is after about 3 hours of going through the Search Results trying to find the thread I mentioned above. "100% Happy....."
I put a lot of time into this because I wanted to try to determine "how is" the search engine tabulating the Index ?? Well, I think I have somewhat determined that it is "somewhat linear" by
Date of Original Post.
I am thinking that if the word that is being indexed shows up in the Index already, it is dropped as irrelevant because that word has already been posted in the index.
So, where did I find the thread I wanted? It was Result #201. That's pretty sloppy if what you want is to retrieve a thread that was Extremely Relevant to a topic you have been reading about and it just went by a couple of days ago, or last week or the week before.
----------------------------
EDIT:
Most folks are going to simply stop reading searches if the first page of results does not give them anything they want. So, what do we do? I don't know, but someone suggested some time back about using Google's search engine in Advanced Mode and making it search only a dedicated web link. In our case,
http://www.goldwingfacts.com
Here is a Screen Shot of the Google Advance Search Engine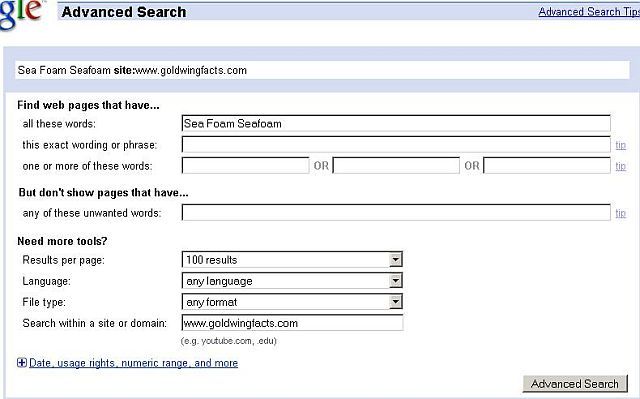 So, if you want to find "a phrase" like we are accustomed to doing in Google, then you are going to have the best results using Google to find that for you. The downside of Google though is that Google's search robots trolling might be a bit behind. Whereas the Forum's search engine is always current. The phrase "current" as mentioned does NOT mean though that it is presenting to you something that was just posted recently. Especially if that post was on the tail end of a thread that was started a Long Time Ago. Deer Alerts comes to mind :grinner: , anybody remember when that one was created? I don't either, but it sure wasn't this week. So, if you are searching for something in that thread. The fastest way to do it is hit the End of Search results and then start backwards.
EDIT: This one contributed by Waskel
John, here's another alternative. Using the site: parameter you can use Google to search a specific website, which is pretty much what have a site specific advanced Google search is doing anyway.
For instance, I went to Google and entered
Seafoam 100% happy site:http://www.goldwingfacts.com
(entered as one line of text, this forum makes the links stand out)
as my search criteria.
The thread you were looking for was the top result, with the first post in the thread being the first result. Give it a try.
The syntax is simply
searchstring site:url
Thanks Waskel :waving: