Discussion Starter
•
#1
•
imported post
One of my favorite bikes of all time is rapidly becoming my Kawasaki KLR 650.... not because it's sophisticated, far from it. It's kind of like the Model T of motorcycles, rough and easy to work on and cheap! It does have a potentially fatal flaw, a poorly designed balancer spring lever, the doohicky, a cheap stamped and welded part that usually breaks.... the pieces can fall into the engine and destroy it..... So I got me an aftermarket parts kit and embarked on my great Doohickey adventure (be patient, I don't know how to create photobucket albums, got to keep adding links!
Here's my model T in my combination laundry room-reloading room-airgun range-bike garage room!
"What are you doin," screams the Redhead!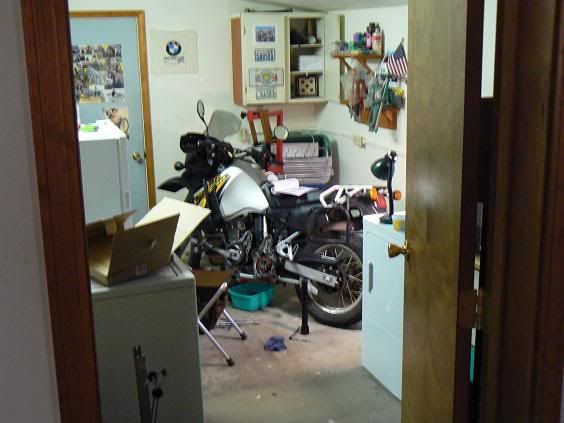 Okay! Into the guts! Now, how do I remember what came from what?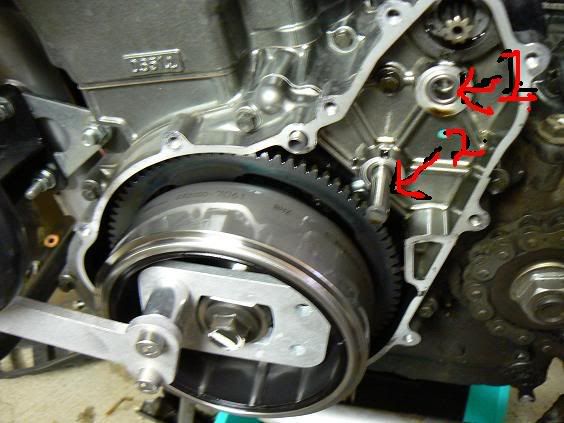 By the way, did you notice that slick rotor (actually, a crank) holder wrench in the above picture? The one that cost me thirty bucks? Here's what it looks like after Cousin Jack, the ex National Guard tanker crewman, gets done with it!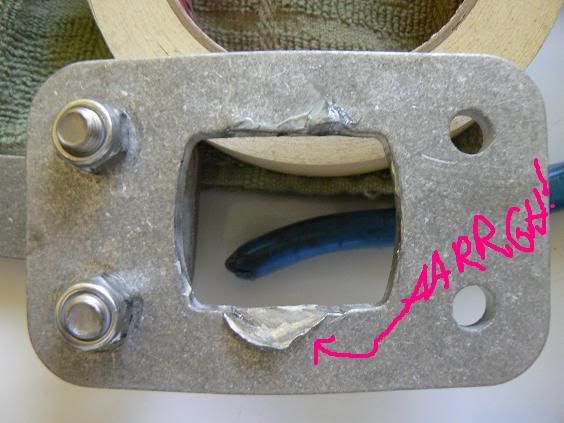 these here annoying starter gears gotta come off..... the "WTF" part came off too, but I don't know from where...... you know what "WTF" parts are, don't ya? They're named that because that's what you say when you find them!
"How long's that thing gonna be in there," screams the Redhead.....
"I gotta build me a shop," I mutter, as I try to decide which Springie Thingie to use... this little spring is part of the problem, the balancer level breaks, the spring comes off it's place on the block, you lose timing, and the engine explodes! Nice, huh?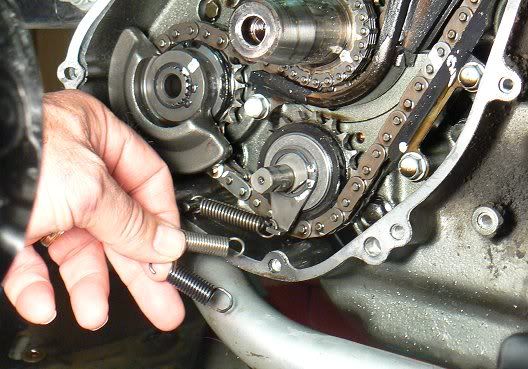 ahhh, sweet success......the stupid doohickey....the problem itself.... this little part causes all the grief. See the stupid weld? Can't figure Kawasaki out... since 1987 this simple bike has been all over the world; it's crossed the Gobi and the Sahara; it's been toured around the world more times than I can count; one of the most popular bikes in their catalogue, and the Kawi boys can't be asked to redesign and fix this little part. Unbelievable.....
yessir, sweet success..... here's my nifty little house, with my nifty ST1300 (under wraps), and my nifty KLR 650 out again in the open air, where she belongs! My nifty little Redhead is off earning my health insurance! :cheeky1: And my great Doohickey adventure went off without a hitch... bike runs sweet, no "WTF" parts left over... only casualty is my green neutral light.... connector was kinda loose when I put it on, easily fixed... besides, Green lights are for sissies, anyway! If you've picked up one of these sweet thumpers, and are worried about the doohicky, buy the kit and dive right in...... If ol' Cousin Jack can do it, anyone can..... I even have a rotor holding wrench I'll sell ya...cheap! :cooldevil::cooldevil::cooldevil:
edited to help with picture linking