Discussion Starter
·
#1
·
imported post
Copied from another board.
We just got back from Spring Wing Warm Up Rally, in Bloomington, IN. As last year, I went wild spending the moolah. First of all, thanks to all the board members, who stopped & talked to us. I think there were 5 or 6 in all. It's really nice to put a face, with a handle/name. Here's just a few pictures of what I spent my hard earned dollars on. Our 05 Blue sure looks different now.
Thanks to B&G Cycle Upholstery for such good service.
http://www.b-g-cycleseatcovers.com
Thanks also to Country Choppers, for a good deal on chrome accessories.
http://www.countrychoppers.com
And last but not least, A big thanks to Steve & Sue Baller, for such a terrific job with pinstriping our Goldwing. They don't have a web site, but here's their e-mail address & phone number.


[email protected]

& 1(260)824-1987
Driver's backrest, & passenger's armrest covers.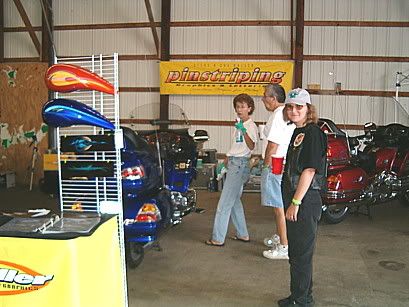 Getting ready to start working on Wingnut's 05 Blue.
A steady hand. :shock:
Steve Baller giving it his special touch.
The front end finnished.
The rear completed.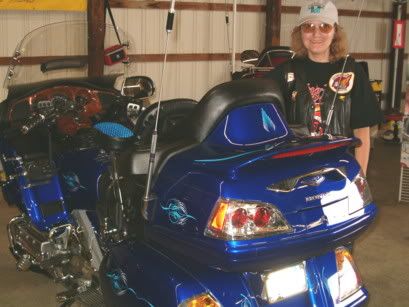 Another happy camper.